Sometimes you just can't make things work out just right in this business. Not only could I not make it on time for that delivery to the Great Dane manufacturing plant, I couldn't even make it over there legally. I do not like to do it, but I had to drive illegally to get there. Here's what happened: I explained in my last post how it was a really tight schedule - remember now that the problem was nothing of my doing, so it does not count as a service failure on my part. If you remember, recently I posted about the fact that we are not allowed a service failure on this account, and a service failure is grounds for termination. The problem in this incident was the fact that I was bumping up against the clock, i.e. I did not have enough hours available to get it done when they dispatched the load to me. They knew this not only because they can see right on their computer screen how many hours I have if they choose to look at it, but also because I warned them when I accepted the load that I might not be able to do it. I mentioned in that post titled "Hard Pressed" that the trip would have to be pulled off with zero problems, and running that long of a time period only increases the odds that "Old Murphy" is gonna figure out how to put one of his laws into play.
I was driving all through the night, and when it began to get close to sunrise there was a thick fog developing along my chosen route. Sure enough due to the fog there was a bad accident involving several cars and one eighteen wheeler. It caused about an hour delay in my time. I began to contemplate what it was that I should do, and the first thing was to contact my customer to let them know what happened, and that I would be late. Turns out they were actually glad that I called and said their schedule was messed up because of another driver being late, and they would just move my appointment back a few hours if that was okay with me - Perfect! That makes it so that I'm not charged with being late, but the whole delay from the accident makes it so that I am going to go over my legal driving hours just to be able to get there in the first place. Ahh! I remember this little known rule in the F.M.C.S.A. Motor Carriers rule book called the "driving exemption" which allows you to add two hours of driving time to your day if there is an unexpected delay because of unexpected weather issues causing you a delay. I figured that will be perfect, I'll just put it in my logs that I used the exemption because of the severe fog and I will be good to go. Wrong! When I looked up the rule I discovered that it does not apply to your seventy hour clock, which is the one I was pushing. If you are just having trouble with your eleven hours driving clock, but have not worked seventy hours in the last eight days it is okay to use the rule, but not if you are going over the seventy hours, so I'm out of luck on that one.
So, what do you do in a situation like this? Well, you have to make your own judgement call. I could have called my dispatcher and said, "Hey, I can't make it without breaking the law so I'm going to stop and take a ten hour break and set up a new appointment for tomorrow." Understand that it is quite possible the customer may say, "We're sorry driver, but we are over booked already for tomorrow, Fridays are killers for us because the drivers do not want to sit all weekend at a truck stop waiting till they can come in Monday morning to get unloaded. We have an opening for three o'clock Monday afternoon, will that work for you?" If I chose that option, there is no way I would get home for Thanksgiving, and I want to be there pretty badly. So, as I'm driving down the highway I am mulling all this stuff around in my poor feeble cranial cavity. I decide that my best option is to commit a defiant act of roguery, and defy the law. I'm heartily ashamed of myself, but that is the course of action that I took. I drove for 35 minutes with my Zonar (on board computer) warning me that I was a social deviant and that I had better straighten up or face the consequences. Actually it just showed a red line on my logs during that time period, but that is how it felt to me. I am not comfortable breaking any laws, no matter how trivial they may seem, and I let out a big sigh of relief as soon as I got there and was able to take my clock off of the drive line.
Just an FYI for you on the way this could possibly get a truck driver in trouble. It is the law that you have to keep the current day, and the past seven day's logs on your truck with you. So you always have to have eight days logs with you. That is all they are interested in if an officer so chooses to ask you if he can look at your logs. Now to put this in perspective, since I started this career I have only been asked twice by an officer to see my logs. Once I was asked by an officer as I was going through a weigh station, and the other time was way back at the beginning when I had that issue going across the George Washington Bridge. So, after eight days goes by I will be very relieved of this anxiety I am driving under now. Thirty five minutes is a very minor violation, but it is still something they can enforce if they wish. I am proud to have such a good clean record, and I would like to keep it that way. There are plenty of drivers who think they can't make any money if they are not constantly breaking the rules, but I have proven to myself and my dispatchers that it can be done effectively, and efficiently while still keeping a sense of honor and dignity in what you do.
Well it seems like I have been mentioning all the rules we have to deal with and understand in this career lately, which I'm certain doesn't interest any of you, but it is a fascinating challenge to keep up with them. Several times I have mentioned rules in our "green book" to my dispatcher and he will say "is that a rule?" He was the safety director for many years at the Knight terminal in Olive Branch Mississippi, and he gets all excited when he realizes that I know the rule book much better than he does. Here is the book I am referring to, and in fact one of the rules in this book is that we have to have a copy of it in our truck!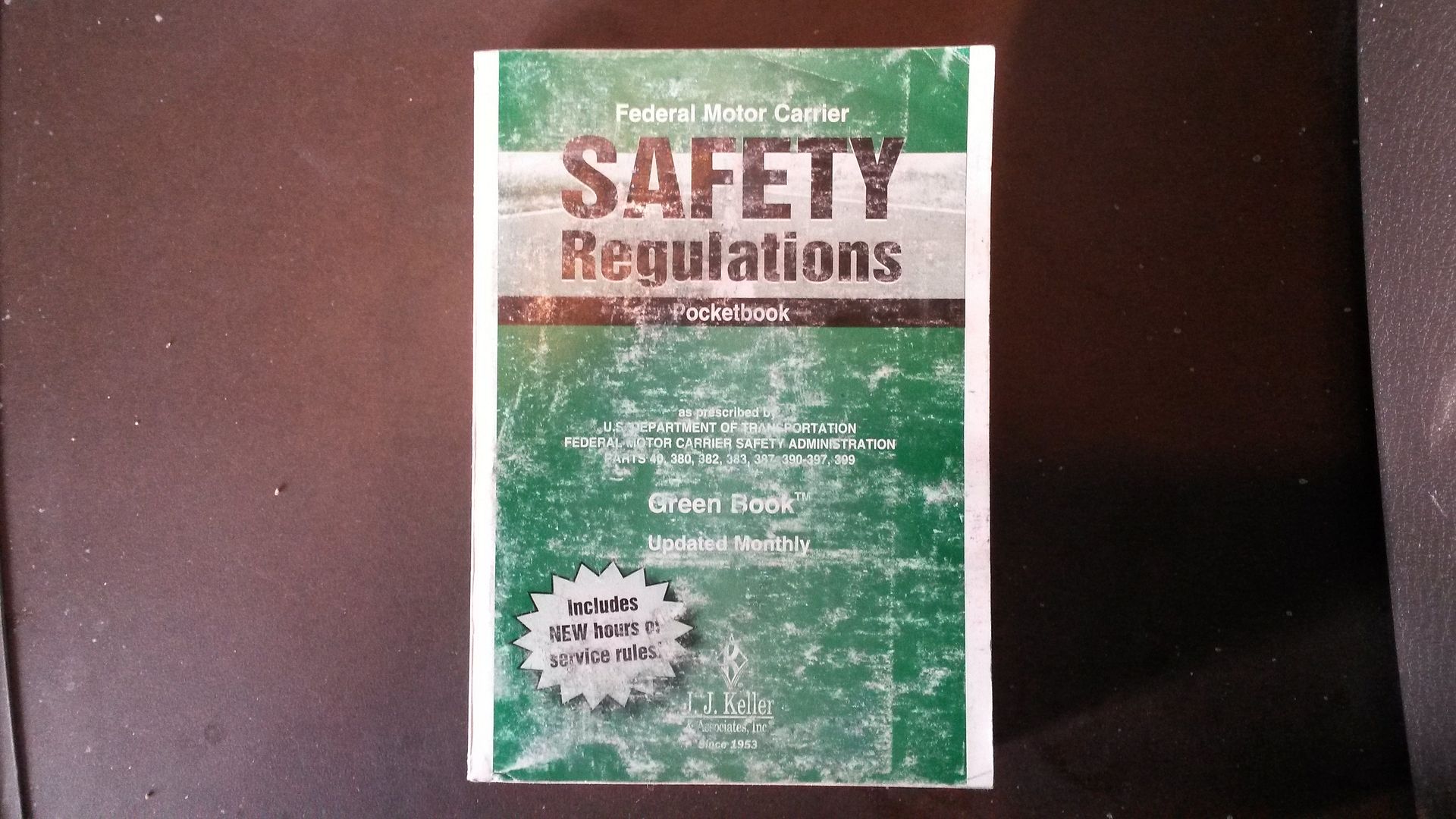 Take a look at this photo, I'm sorry it is so small, and it is probably silly for me to try and show you, but I just wanted you to see the last page number in the book. Yep, that is a lot of pages of fine print that we are supposed to keep up with. I have heard some drivers say that there is no way the officers are aware of all those rules, but I personally want to make sure that I know it better than they do. It is one of the many challenges about this career that I try to overcome and be the best that I can be at it.
Well,my dispatcher already has a plan for getting me home for Thanksgiving. He contacted me today to let me know he was sending me to Corpus Christi, TX with a load that leaves out Sunday night, and if all goes well I will be home by Tuesday night or Wednesday at the latest. Woo-Hoo!
I'm on my way back to Delhi to get that load to Corpus, but I'm parked right now in Lincoln, Alabama. I've decided that I am going to stay here for a 34 hour break so that I will have a fresh set of seventy hours before me for the next few days. That way I don't keep running into this problem of not having enough time to get where I need to be. The last thing I want to have happen is I get that load down there to Corpus, and then I can't get myself back to Nacogdoches for the holiday with my family.