I've had a long and healthy relationship with the lowly pocket knife. I have quite a collection of pocket knives. Most of them were given to me by friends. One of them was given to me by Jeff Abt from one of his trips abroad. If I remember correctly it was from Tibet.
From the time I was a young man I have almost always carried a pocket knife. It is something I use often, and when you have something so handy with you all the time you can kind of grow fond of it at times. My late friend and one time employer Steve Spradley told me that I should never hire anyone who didn't carry a pocket knife. He claimed that person was an impractical person and would never make a good employee. I still remember him asking me if I carried a pocket knife before I went to work for him back in 1983. It was years later that I found out why he asked me that question.
I one time loaned my pocket knife to a fellow that was working for me on a job site in Longview Texas so he could cut something or another, and it was later that night when I got home that I realized I never got it back from him. So the next morning I asked him about it, and he couldn't remember what he had done with it. After quizzing him a little he decided that he must have laid it down on the roof of the building where we were working and forgotten to pick it up when he came down. It was one of those knives that I had gotten attached to and I made up my mind to drive the hour and a half drive back to the job site on the weekend and see if I could find my knife. This particular knife was one that I had given to my father-in-law for a Christmas present and after his death the family gave it back to me when they were determining what to do with his belongings. It was a dandy little Spyderco knife that really felt good in your hand. I took an extension ladder with me, and leaned it up against the building where my friend had been working and as soon as I climbed up to the top there it lay - right where he had forgetfully set it down. I can't tell you how good it felt to get it back, I know it all sounds kind of silly, but it really did give me a sense of relief. That was years ago, and I'm only telling you all this so that you'll have an understanding about how disappointed I was when I recently lost the pocket knife that I've been currently carrying with me.
A week or two ago I picked up two coils of aluminum in Kentucky and carried them to a company called "Rexam" in St. Paul Minnesota. Rexam is a manufacturer of the aluminum cans that soft drink companies use for their drinks. So now chances are that you may have drunk something from a can which was made from the aluminum that I hauled on the back of my truck. How about that? Here is a photo of one of those coils. That one coil weighs about 23,000 pounds, and that my friend represents a lot of cans!
Now if you're wondering why I all of a sudden changed the subject to aluminum coils, and it was such an abrupt change in the subject that inquisitive minds should be wondering such things, it is because it was on the day that I picked up these aluminum coils that I later realized my pocket knife was missing. And, as you will soon find out, these aluminum coils hold the secret to how I lost my pocket knife that day.
Later that day when reaching for my knife I was quite surprised that it was not there clipped to my pocket as it always is. I searched for it in all the possible places I might have left it, including my laundry bag just in case I might have left it clipped to the last pair of pants I had been wearing. But after searching high and low I was left with that empty feeling that I had lost another perfectly good pocket knife. That evening I exercised my mind in going through all the steps of the day and trying to remember when I used it last, but I just could not come up with a scenario which would help me solve the mysterious disappearance of a very functional and well balanced Gerber knife.
The last time I remembered using the knife was to cut some rope just before putting a tarp over the two aluminum coils I was hauling to Minnesota. So while I was driving I finally came to the conclusion that I must have laid the knife down on the bed of the trailer and inadvertently forgotten it there before I started driving. It kind of felt a little better thinking I had solved the mystery of how I lost the knife, but it still bothered me that I could be so forgetful with such a useful tool as my lowly pocket knife. After a while it just settled in on me that it was lost and I might as well get over it. There was no way it would have ridden on the bed of the trailer that far without falling off at some point in my travels. I determined that as soon as I got a chance I would start looking for another knife.
When I got to Rexam the next day I backed my truck into their building and started getting my tarp off and preparing to loosen the straps so they could unload my cargo. After I got the tarp off and folded back up and put away I began to loosen the straps. When I went to the opposite side of the trailer from where I had been working what do you think caught my eye? There was my pocket knife clipped to the protective plastic wrap that was covering the coil of aluminum!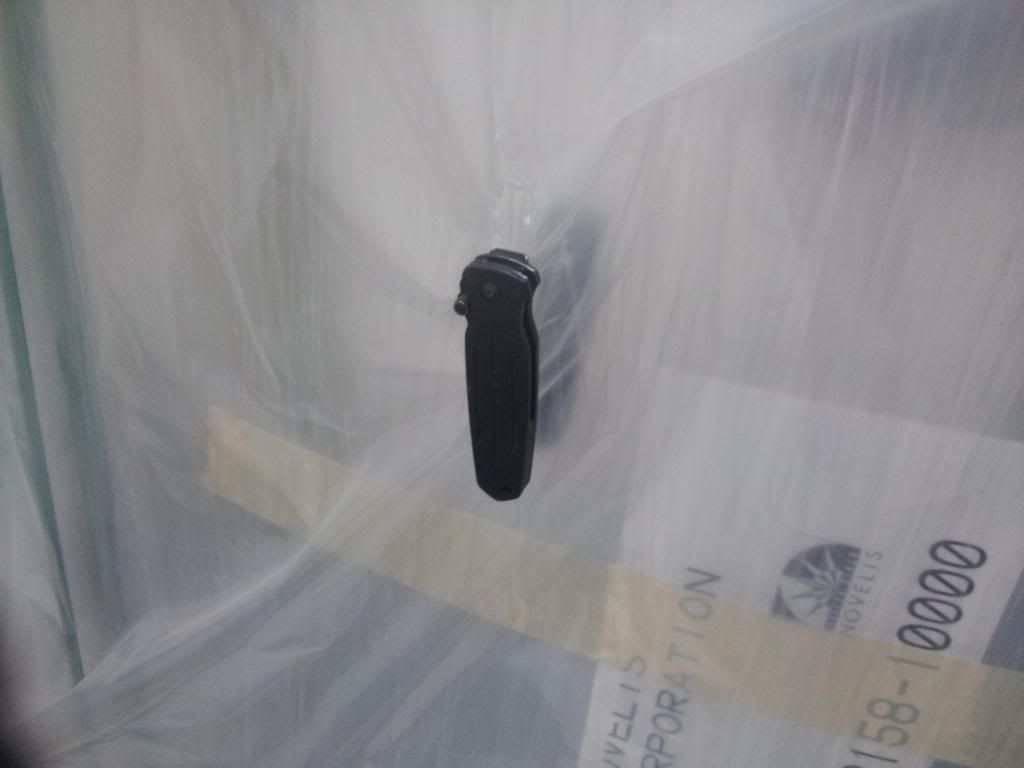 I was so surprised I laughed out loud. All the mental calisthenics I had been doing the day before to try and solve the mystery and I never even realized that while I was getting the tarp on these coils I at one point had to climb up on top of them and had kind of slid my way back down to the trailer bed and when I did somehow the clip on my knife dug into the plastic wrapping and slipped right off of my pocket as I slid downwards, and there it rode all those many miles up to Minnesota without ever coming loose.
Pocket Knife Lost and Pocket Knife Found, all in a few days work. Man it sure feels good to have that knife clipped on my pocket again.
I'm in Thousand Palms California tonight. A pretty little town in a desert valley surrounded by mountains. I'll tell you about how I ended up here and show you some pictures tomorrow night. I've got to get myself in bed now so I can get up early tomorrow and get on over to El Paso Texas with 44,000 pounds of aluminum in another form. This is a load of aluminum billets and they have already traveled a long ways before I got them. They are engraved with a stamp that says they were manufactured in Dubai.