Well, I have been missing in action here lately. Part of the reason is that I got wind of a job opening that an internet friend of mine contacted me about, and it sounded so interesting to me that I decided to check it out. I have this friend who I've only ever known as Sand Man on an internet forum that I contribute information at. He's always seemed like a pleasant person with a decent head on his shoulders, and he sent me a private message wanting to know if I would be interested in getting in on a new dedicated flat-bed account where he was working. So I contacted him by phone and we visited about it. I really liked some of what he was telling me, and I told him that I would like to look into it further. So he gave me the contact information for the people responsible for hiring new drivers for this account. After several weeks of prayer and consideration, I decided to go for it and turned in my two weeks notice to my very disappointed Driver Manager at Western Express,
This new job is a dedicated account which means that I will primarily be driving for one customer. That customer is SAPA, a major player in the aluminum extrusions business. I have already hauled their finished products coming out of their plants, and their raw materials that go into their facilities, so I am somewhat familiar with their operations. They are a very large company with many carriers getting a slice of the pie. Okay, so the way this particular arrangement works is that I will be employed by Knight Transportation in a new and very small (15 trucks right now) dedicated division that will primarily serve the needs of SAPA's plant in Delhi, LA. Knight transportation is planning on developing this relationship with SAPA, and they have been very successful in the past with developing dedicated customer accounts. It is the type of business that they like to do, sort of a niche for them. The difference on this particular job is that Knight has not been pursuing any flat-bed business. For the most part they have been in the dry-van, refrigerated, and inter-modal transportation end of things. They seem to be excited about expanding into this field and were looking for some good reliable experienced drivers to help them on this new venture.
Originally they had decided that they would only hire drivers that lived near Delhi, Louisiana since that was going to be the base of operations. They have set up the only dispatcher on this account with an office right there inside the plant in Delhi, so he can work hand in hand with the shipping and receiving department at the plant. Well, they'd been doing it that way for about six months when my friend heard the dispatcher saying that they were going to start expanding their hiring area into the freight lanes they run in. Originally they wanted people right their near Delhi, so they could get them home easily and also so they could be right close by when they needed them. But now that they are starting to get the relationship developed a little better they are looking to expanding the number of trucks and drivers so they can better serve the needs of SAPA. Well, my friend knew that Nacogdoches had one of SAPA's customers (Bright Coop) right there in town, and not only that, but when they go to their customers in Houston or Dallas they have to pass right close to Nacogdoches.
Before he contacted me, he asked the dispatcher if he would be interested in a good driver that lived in Nacogdoches, and he said yes. So, that's how this tale began without my even knowing that someone was looking into getting me into a unique truck driving job.
So here's the benefits to my new situation. I'm still running all across the country, although maybe not as vast an area as before. I will get more consistent home time, and I'm allowed to just stop by the house for the night if it works out when I'm passing through the area. These are big advantages to me. I also get to drive a brand new Volvo truck with all our trailers being very nice new all aluminum Reitnour units. About fifty percent of the trailers at this point are "Conestoga Wagons" which is a type of flat-bed trailer with an accordion like cover over the trailer so that the driver does not have to wrestle with those heavy tarps to protect his freight from the elements - another nice benefit to me. When we do have a load on a regular flat-bed trailer that has to be tarped we get paid 45 dollars for the tarp pay. When you compare that to the 15 dollars I got paid at Western Express for tarping that is another nice benefit. My pay started at 27 cents per mile at Western, but here I started at 40 cents per mile - again, a very positive thing. Now, I've talked before on this blog about the nature of the trucking business and how the pay is performance based, so one of the down sides of switching to a new job is that you've got to prove yourself all over again before you start getting the choice loads. So I'm expecting things to be a little slow at the beginning for me, until the dispatcher gets a feel for what I can do. That relationship between dispatcher and driver is built upon trust and experience. I don't think it will take very long before we've got a good working relationship going, and he's already indicated several times that he is pleased with what he's been seeing.
So far I'm enjoying this new job. I'm still getting accustomed to the way they do things here. One of the differences is that they like to hear from their drivers. This is so different from Western Express that I'm having a little trouble getting used to it. At Western Express we would get these fleet messages all the time telling us "DO NOT CALL your driver manager unless you have a dire emergency. All your communications should be done on the qualcomm - we are too busy and we cannot get our jobs done because you are tying up our phone lines." They would have about seventy drivers assigned to each dispatcher, where as here my dispatcher only has about fifteen to twenty drivers he's dealing with. My first few days I would get phone calls from him asking me is everything okay? I haven't heard from you. It had been so pounded into me at Western to not contact them that I was still operating that way. What my first employer wanted is apparently what makes these people a little nervous - what a contrast! So I'm having to get accustomed to some new ways of doing things, but all in all it's a positive thing.
I forgot to mention that they have a really positive bonus pay program here that pays out quarterly bonuses to the drivers who reach the mileage and efficiency goals set forth for the fleet. As best as I can tell right now I should have no problems getting a nice bonus check each quarter. I don't see too much of a challenge at meeting the goals they have laid out. Again, it's another positive thing that I never could get at my former job.
Well, I've rambled on here long enough. I'm taking a little break today in Delhi while waiting on a load headed to Akron Ohio. I'll be posting some more as I move around and get settled in at my new job. Oh, by the way, here's a couple of shots of my new "office with a view". The first one is the first time I saw it, and the second one is at a SAPA plant in Cressona Pennsylvania where I picked up a load of aluminum pipe that went to a coal mining operation in West Virginia.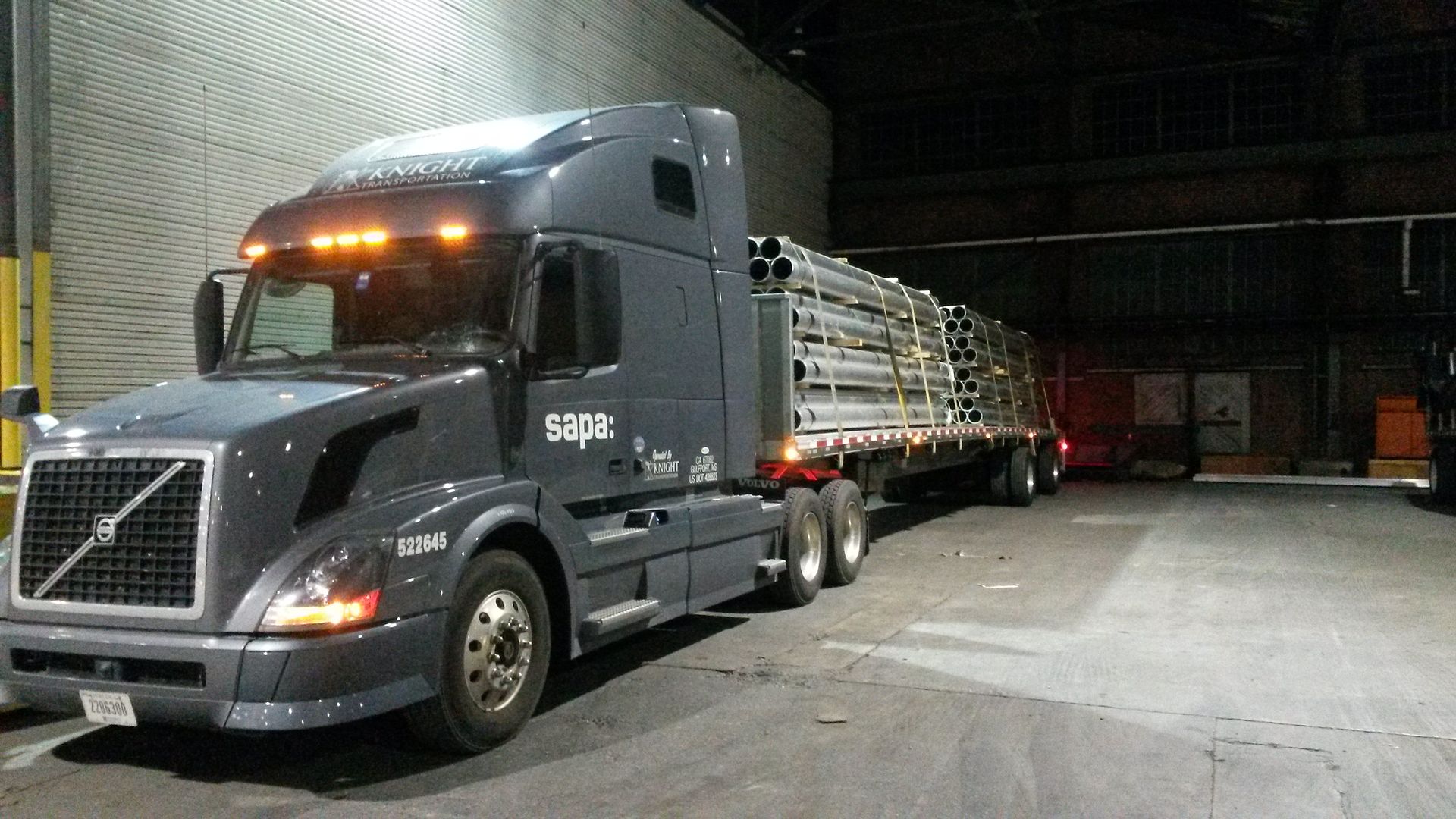 A couple more things - this new truck is really nice, it rides very nicely and is very quiet inside for a big truck. It also has two beds! No more sleeping on the floor for me when I have one of my daughters with me. One more positive thing is that Abigail can ride with me now. At Western your passengers had to be eighteen, but at Knight they allow anyone over ten years old. Woo-Hoo - I can't wait for her to come along. And if my dear wife could ever figure out how to come with me it would just be the greatest thing I could imagine! I miss them all, but hopefully this new change will help me see them more often.