I'm sorry I've been missing in action, but I'm trying to return to this little exercise. It really is a serious discipline to do this. I am usually so tired at the end of each day that I just don't feel like trying to write. I like to be creative, but when you are dead tired it doesn't come very easily.
So much has happened since I posted last that there is no way for me to tell about everything. Doing this job is akin to living three or four lifetimes in one. You see so many different things, come across such diverse peoples, and basically end up moving along like a gypsy through three or four states each day that it all becomes a whirlwind experience that almost seems like an addiction. The fact that you are always on the move begins to feel as though you have a need to be on the move. It is a difficult thing to just do this for your job, because it very easily becomes your lifestyle – that of always being on the move, never settling anywhere, never calling anything home. There is a certain aspect of it that is a reminder of the fact that we are strangers in a foreign land, longing for our home – pilgrims, whose journey is not complete until we cross that final river, and rejoice in the victory our King secured for us over that final enemy.
I'll just give you a brief look at a few highlights of the last few weeks since I last posted about going to Limerick, PA. My trip into Limerick was crazy. Pennsylvania, while beautiful, is a treacherous place for big trucks if you end up getting off the interstates. Their roads, at times have very sharp curves and steep grades, in fact there are many of them where trucks are not even allowed because of the dangers inherent for a big rig. I came into Limerick in the dark and I ended up on some of those crazy mountain roads of theirs, but I made it safely with only one problem where I had to make a sharp right curve and the impatient car at the intersection decided to cut the corner and get between me and the power poles on the right side of my truck. They could have gotten easily crushed in there by making such a hasty foolish move, but I kept my cool while they acted like a fool. They finally realized how dumb that move was and hit the gas and went careening into the ditch and back up and out and swerved around the back of my truck to get out of the path of danger that they had chosen.
When I finished that load up in Farmington, Connecticut I picked up a back haul load at Cressona, PA and delivered it to a Great Dane trailer manufacturing facility in Georgia. The aluminum material on my truck was 53 feet long! Here I am backed into the building at the Great Dane plant.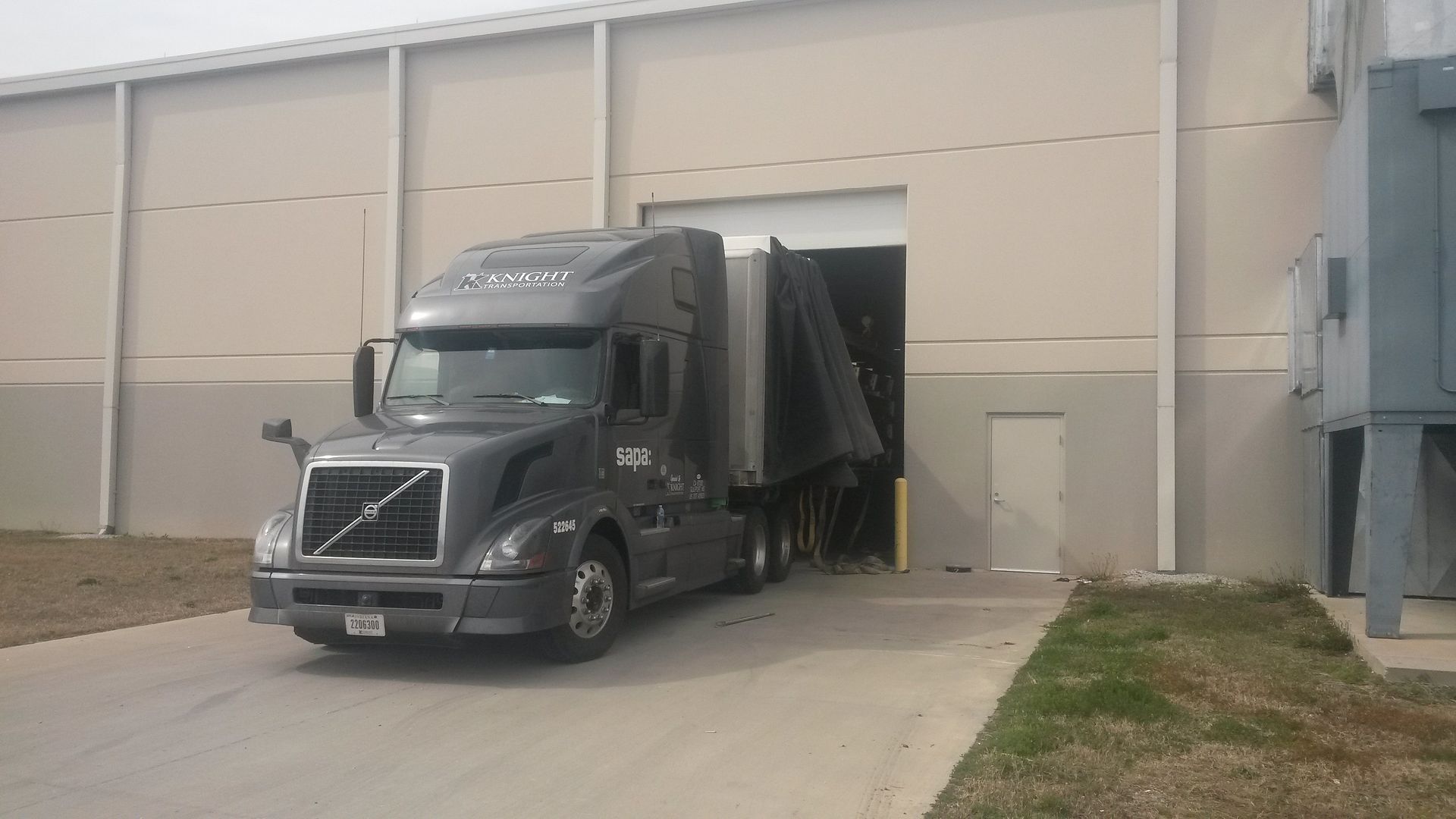 And here is what is going on inside that door where they are unloading me with an overhead crane.
The snow in Farmington was still about six feet deep, and they told me that when it begins to melt that they had a truck load of returns for me to take back to Delhi one of these days, but they were buried in the snow right now so that the fork-lift could not even get to them to load the truck.
Here's an interesting sight that I saw in Virginia recently. I came through after a very heavy snow storm. I waited for the storm to pass before I came through, and I'm glad that I did, for this is what I saw – four different trucks just like this on the side of the road looking like they had simply gotten tired and laid down on their sides for a nap.
Here's what happened to them. They tried to drive through blizzard conditions where at times you simply can't see anything – this is called white-out conditions. I've told you before how dangerous it is to pull over in a snow storm because the next vehicle coming up on you sees your tail lights and fearing that they have wandered off the pavement moves over behind you and then runs right into the back of your parked truck. Well, these guys tried to get far enough over off the edge of the road to avoid that and got themselves into a different problem. They got all the tires on one side of their truck and trailer over off the shoulder and into the grass. Well, there has been so much snow melt up here lately that the ground is very wet and soft. So, as they sat there waiting for the white-out conditions to stop, one side of their truck was slowly sinking into the very soft ground... and next thing they know they have reached the tipping point. Not a good day for a truck driver! These trucks need to stay on the pavement – they are just too heavy to take a risk like that.
Tonight I am in Springfield, Missouri. I'm sleeping in the parking lot at Efco, a manufacturer of glass door and window frames who uses a lot of the aluminum extrusions that SAPA produces in their product. I will be delivering my truck load of aluminum to them at six o'clock in the morning, and then I will be dead-heading back to Delhi, LA to see what's next on the agenda.
Here's one more shot of a recent back-haul load I had. This was picked up in Pennsylvania and delivered down to Beaumont, Texas, This is two pieces of steel sometimes called billets, or ingots. These two pieces weigh twenty thousand pounds each. I picked them up at a foundry and delivered them to a machine shop.