Okay, first let me apologize to the few folks who faithfully are following along in here. I have been awfully busy lately. Not only am I running the wheels off of this poor truck, but I have also been heavily involved in helping my siblings with some construction projects on my mother's home. I am the closest one to Arkansas, where my mother lived, and I really am the only one who can take care of the many things that need to be done around there so that we can move forward with the sale of her home. So, as I am able to get some time off, I am coordinating some of the work with local contractors and it has all been keeping me overly busy. I just haven't had the inclination or the time to devote to keeping this up here lately - my apologies to you all.
You know on my last post I mentioned about unusual circumstances that we encounter out here on the road, and one of the things I mentioned was having to get my flat-bed unloaded out in the street at times. The load that I was on in that post had a stop in New Orleans, and lo and behold I had to unload in the street again! Take a look at this...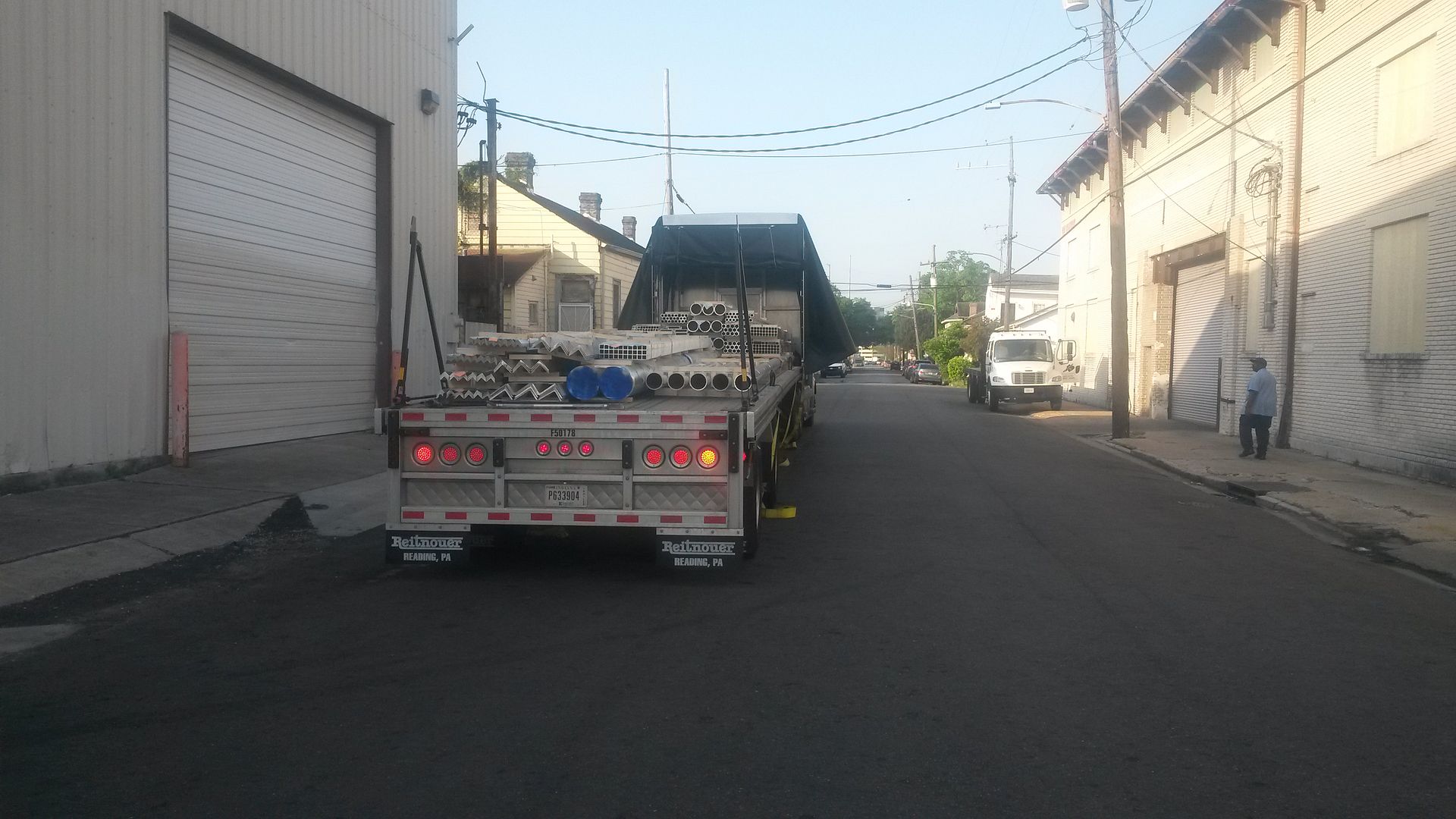 There was very limited space to put a 70+ foot vehicle at this particular customer, and we unloaded me right there. Then I had to move over to the other side of the street for them to get stuff off of the other side of the truck. Downtown New Orleans is not a great place to go in a big truck. I remember way back when I came to New Orleans for another delivery to a Hospital, and it was the same situation. You can read about that
Eventful day back in 2013
by clicking on that link.
Just for grins, here is another example from days past of me
getting unloaded out in the street
while in Chicago. So, I guess maybe it isn't all that unusual after all, but it sure can be tricky at times.
Here's a shot of a plant in Pine Bluff Arkansas where I unload in the street whenever I deliver at that location...
I also had left you wondering about my delivery appointments on that load, and I did manage to get it all done on time. We actually changed a few of the appointments, but everything was delivered on time and I managed to final out on the load on the original scheduled day which kept me moving on to the next load. That is a critical component of success out here - to manage to get things done in a way that keeps you moving. That is when you are making money out here - sitting and waiting is no way to be successful at this - detention pay is not worth the wait or the time wasted. You want to be making money by turning miles. A top tier driver pulls all kind of little tricks out of his hat to keep things moving forward.
I have been on some different routes lately. While I always enjoy my Northeast runs up into Upstate New York, and Connecticut, here lately I have also enjoyed some Deep South, and some Midwest runs. Just so that Captain Terryble can put some new pins on his map I'm going to give you a quick list of cities I've delivered to lately...
✔ Geneva, Alabama
✔ Montgomery, Alabama
✔ Childersburg, Alabama
✔ Atlanta, Georgia
✔ Duncan, South Carolina
✔ West Columbia, South Carolina
✔ Washington, North Carolina
✔ De Smet, South Dakota
✔ Farmington, Minnesota
✔ Grand Rapids, Michigan
✔ Jonesboro, Arkansas
✔ Yukon, Oklahoma
✔ Kansas City, Missouri
✔ Hastings, Nebraska
✔ Yankton, South Dakota
Wow, when you sit down and make a list like that it really shows you how much you move around doing this crazy job! I've been everywhere man, I've been everywhere!
Okay, let me leave you with a quick little funny story from my days of being in the sign business. For many years I had a young man who worked for me who's name was Roger Hernandez. Roger was a great guy with a good sense of humor, and a decent head on his shoulders. He grew up in a poor family and really didn't have a very good upbringing. I liked this guy a lot, and we worked together well. I don't ever think about it, but I guess I have a better than average vocabulary which comes from extensive reading. One day Roger says to me, "You know I have got a pretty good vocabulary, and you may not realize it, but I know a lot of those big words you use. Most of these other guys don't always understand what you are saying, but I help them understand what you mean when you tell us something to do." So I told Roger, "I'm sorry, I didn't even realize that I was using words at times that they weren't understanding." Roger, then with an air of importance, let me know that he even knew what the word "indiscreet" meant. So, I questioned him further, "Okay Roger, just what does that word mean?"
"Well, in my neighborhood, In Da Screet is where we parks our cars, cause we aint got no driveways," was his quick witted response!
While I was in New Orleans watching all the folks who seem to live in the streets, I remembered that story and used it for the title of this post.
I am in Delhi, Louisiana tonight picking up a load that will take me back on my usual route. I've got three stops on this one, and they are as follows...
✔ Bridgewater, New Jersey
✔ Riverdale, New Jersey
✔ Farmington, Connecticut