In my travels I often get the chance to pass through various pockets of Amish country. It's not at all like I had imagined it. I always thought I would see areas where only Amish people lived, sort of a community to themselves separated from the rest of the world by their antiquated ways and customs. It's more like there are pockets of Amish people mixed in with, perhaps, encroaching neighbors, or maybe over the years various Amish folk have sold their farms to "foreigners", people who are not sticking with the old and simple ways of the traditional Amish. I really don't know about all this I'm just trying to explain the way it appears to me as I pass through these areas. There is one Amish community in Ohio that I go through fairly often that is littered with oil field trucks and equipment. Now those Amish folks have got some really nice barns and houses, and I suppose that they were financed by the mineral rights of their properties. Imagine that, Amish folk bank rolling money from the rest of us consumers who are burning gas in our SUV's and moving freight right through their neighborhoods with our eighteen wheelers! Life has it's comical ways of working things out sometimes.
Today I'm waking up in Plymouth IN and it's 16 degrees on a beautifully clear winter morning with some light snow flurries gracefully dancing on the breezes here at the truck stop where I slept last night. Here is a photo of the load of Steel I picked up at a NuCor Steel mill in Wallingford CT.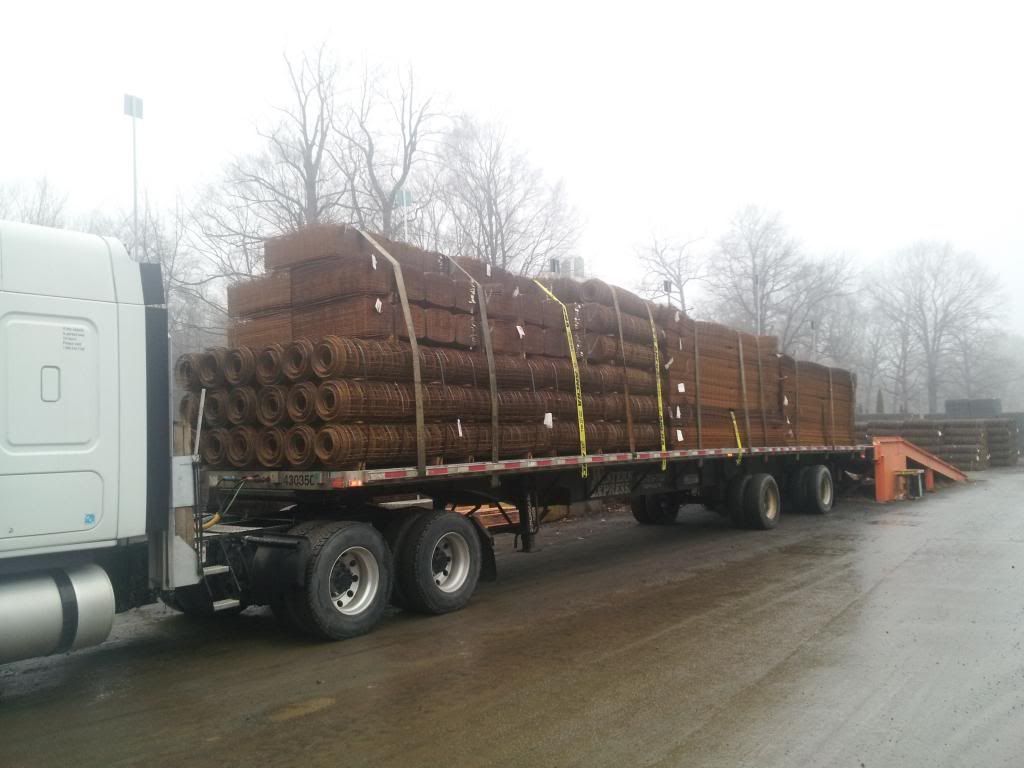 This load is all concrete reinforcing wire in various forms and sizes. My delivery papers tell me that I have two different places that I am delivering to and they have loaded me in such a way that the first stop will unload their quantity of goods without having to disturb the other portion of the load. My first delivery is in the small town of Grabill IN which is just outside of Fort Wayne. I've been over in this area before and remember seeing Amish buggies on the roads there, so I know I'm headed for Amish Country. My first delivery is scheduled for Monday Dec. 9 at 8:00 am, and then my second delivery is scheduled on the south side of Chicago at 10:00 am. That will be ridiculously hard to make that second delivery time if there is any kind of delay at the first one, plus you can always count on getting hung up in traffic in Chicago. Murphy's law was basically discovered by truck drivers, so we have to do our best to combat it's effects. I figure out that if I really get on with it I could get to the first place by 3:00 pm on Friday and that will give me the chance to get my 34 hour break in over the weekend, reset my 70 hour clock, still make my delivery on time in Chicago and have a fresh start on a new work week. So while I'm steaming down the road I make some calls and get my first appointment rescheduled with a gentleman on the other end of the line who has a distinctive but unfamiliar accent. Then I go ahead and call the second appointment just to see if I could schedule them for Saturday morning, which can't be done, but they offer to move it from 10 am to 8 am on Monday which I gratefully accept because that will make it that much easier for me to get on to something else Monday when I get unloaded.
I made it into my first delivery at Graber Farm and Building Supply at 2:30 where the first thing that catches my eye is an Amish buggy being loaded with lumber, and then I notice a small structure over to the left of the driveway that has about four buggies with horses tethered to them sitting there peacefully in the shade of the loafing shed. I assume that is the parking area for the Amish employees working here. And sure enough next thing I see is a fork-lift flying out of a warehouse with a bearded gentleman in a typical flat-brimmed Amish hat at the wheel. He comes over to my truck, tells me where to park and says they will start unloading me as soon as I can get the straps off my load. Then out of the office comes the Boss Man in a very simply tailored grey suit sporting a full Amish beard and the same hat, but this guy has a cell phone to his ear! There are sweet looking Amish ladies, wearing their traditional head pieces and simple dresses, inside sitting at computers, and I am in culture shock at this irreconcilable conflict in my mind over what the Amish people are really like! I visit with the gentleman whose name is James (a Bible name of course), and even ask if I can take a photo with him to send to my daughter Abigail. But as modern as they seem they still don't want any photographs taken. It seems that they justify using modern conveniences when it comes to making their living, but try to stick with the traditional ways of the simple life in their homes, at least that was the way with this particular group I encountered. James seemed very soft spoken and kind as he queried me about how other places unload this stuff from my truck. It seemed he wanted to make sure he was keeping up with the rest of the modern world in the ways that he ran his business.
It was such an interesting, but brief, encounter. It's these little unexpected pleasures that keep this job so interesting, and of course it always makes me wish one of my children, or my dear wife, were here to share it with. But I do what I can to share my experiences with you here, and I hope they bring to you a little bit of the pleasure they bring to me.