I'm sitting in Savannah Georgia tonight at a crowded truck stop, waiting to deliver my fourth and final stop on this load. I picked up this load on Saturday in Delhi after spending most of the day training a new driver on various things he'll need to know about his new job. He has driven a "beer" truck for a couple of years, but knows nothing about load securement, electronic logs, or the whole lifestyle of an over the road driver. I tried my best to help him out, but he's young and thinks he's got it all figured out. He'll realize soon enough that I gave him some good advice, but I can guarantee you that he's going to learn some stuff the hard way. I hope he makes it.
My first stop was in Duluth, Georgia where I unloaded two bundles of product at a large distribution center for an Electrical supply company called Renusol. I slept at their location overnight and got unloaded first thing Monday morning. Here is a look at the sunrise I enjoyed while waiting for the fork lift operator to get things moving.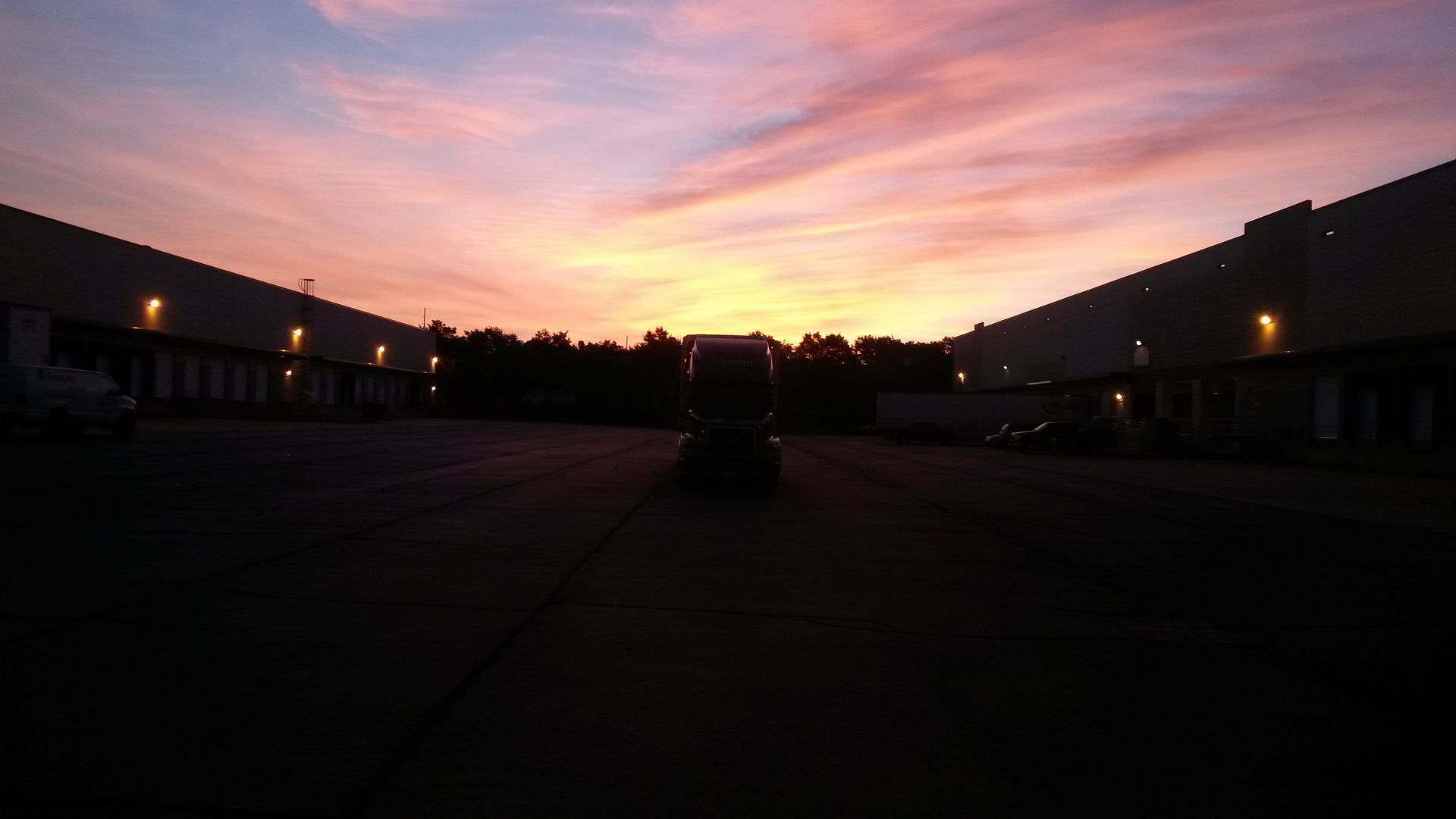 This is a look at my load. The two pieces on the very top were unloaded at this location, and I then proceeded on to Duncan, South Carolina for my second stop, Charlotte, North Carolina for my third, and Savannah for the final destination.
That is a little more than 40,000 pounds of aluminum extrusions that you are looking at.
While driving on Monday after that initial stop I had to call the other locations and set up appointment times with them. My plan was to be in Savannah first thing this morning and be done with this load. When I talked with "JoJo" at Dirtt Environmental Solutions about scheduling a time to be there he says we can't take you on Tuesday because we are doing inventory. You'll have to come on Wednesday. Well that really messed things up for me. This load has a total of 866 miles on it. I picked it up on Saturday and now I'm not even going to complete it until Wednesday. That is five days on an 866 mile run!
I can't complain - I've had three consecutive weeks with over three thousand miles each. I pride myself on my ability to compete and be a top performer. Had I finished this load on Tuesday morning like I should have, this fourth week would have totaled just over 3,400 miles. That's how you want to do things in this job. Sometimes stuff happens that is beyond your control - you just have to roll with the punches and not let it get to you. JoJo told me that he made it clear to SAPA that they would not be receiving on Tuesday. I guess somebody didn't want to tell me about that little detail.
I do my best to stay at the top of the food chain around here, but sometimes you just get tripped up no matter how well you plan things out. Oh well, it gives me some time to rest and take it easy.
I'm headed home next week to get Abigail. She is going to ride with me for a few weeks. I'm really excited about that. I'll be doing a diary of our journey together, so I hope you'll follow along as I show her just exactly what it is I do out here. This truck has two beds in it, so I won't have to sleep on the floor like I did when Esther and Sarah rode with me.