I spend a lot of time in the forum at
TruckingTruth.com
trying to help newcomers to the industry cleanse their brains of the garbage they have learned from their online research into the trucking career. Unfortunately there is a voluminous cache of seemingly irrefutable misinformation out there on how to succeed at trucking, and it is disheartening how much of it comes from truckers themselves. Seemingly everyday we have some new person in the forum talking about how they want to start with "such and such" a company because they have got lots of miles, or they would never recommend "such and such" a company because they just don't have the miles. Here's an example... Just yesterday we had a person who was in training at C.R. England talking about how the company just doesn't care about their drivers, are using them as cheap labor, and then starving them out once they become solo drivers so that they can just keep on extorting productivity from the next gullible batch of students coming in on the next bus, or some such familiar line of garbage that you could hear on any given day in any driver's lounge. I mean, these are truck drivers themselves who say such nonsense, and vocally agree with it each time they hear this junk vomited out again and again. Then you have the reality of this whole career, willfully ignored by the truck driving masses, where the guys who understand how this all works are out there reaching
Million Mile Status
at the same companies who are slandered all over the internet from the very misguided, non-productive, willfully ignorant truck driving crowd.
Here's a small example from my current week that makes a great example of how the top tier guys and gals take the high road to make all this stuff come together, while others are willingly content to sit and complain. I started the week with a tough assignment. Without boring you with all the details, I had a load that really had about two extra days worth of time on it. Basically it was a 1,500 mile run with five days to get it done. The reasons for the extra days were because it had six stops on it and they were spread apart at just the right distances to make it real tricky due to the unusual receiving hours at the different customers. By making contact with each customer, and successfully getting two of them to receive me considerably past their normal receiving hours, I got it done in three days! Hoo-Ray, sounds great doesn't it? Not so fast. My effective communications helped me get that one done early, but they also created a new problem for me. My next load which was pre-planned already as a pre-loaded trailer at the SAPA plant in Cressona, Pennsylvania, was not scheduled to be loaded for almost 30 hours after I arrived there. I don't want or need a 34 hour re-set, I want to keep up this good momentum.
I have sat and listened to drivers just giving their dispatchers grief over this type of stuff repeatedly. I still remember my trainer just yelling and screaming at our dispatcher about delays like this and threatening him that he (the driver) was going to fire him (the dispatcher), as if he (the driver) were the boss in this working relationship! That is not the way to success out here. A great driver will get things accomplished by quietly getting things done because he understands the subtleties of the problems that dispatchers and planners deal with. Logistics is not a clear cut science. Load planners and dispatchers are trying to keep a lot of plates in the air all at the same time. Sometimes the driver feels the effect of that juggling act in the way he is dispatched. So, here's is what I did as soon as I got to Cressona, PA. I sent in my arrival call, and then I sent in my "detention is likely" call. That way I will get paid detention for my time of waiting - even if I am off duty for 34 hours. That is good effective communication, but it is not the way to make the top money out here. I do not like to settle for detention pay. Productivity is the way to success out here.
So, my next step is to send the following "free form" message to my dispatcher on the Quallcomm: "Hey, I am here at Cressona, but my load isn't scheduled to be ready for another 30 hours. I am not in need of a re-set, and I am willing to do something else during the wait here. Could you please check with the planners and see if maybe there is a little short haul out of here that we could do while we are waiting, or maybe some shuttle work of some sort? I'd much rather be getting something accomplished over taking a long nap!" His immediate response is, "10-4, I'm shooting them an e-mail right now - I'll let you know something as soon as they respond." Here is the magical part of this whole scenario:
I'm not stressed, or upset about anything. I know how to get things done, and I have taken all the right steps here. I am in total control here. It is either going to work out or not, but I have effectively covered my bases for success.
I promise you it wasn't ten minutes that went by when I get a message that says, "Hey, how do you feel about shuttling a damaged trailer from that customer over to a repair facility in Ohio? It is an 850 mile round trip, and you can bob-tail back to the customer after dropping the trailer." Bingo! I just effectively turned what was going to be about 125 bucks of detention pay into 425 dollars of real truck driving pay! It is going to be another great week after all. It was easy, it was stress free, it was extremely effective.
Here is a look at the damaged trailer that I hauled over to Perrysburg, Ohio (Just outside of Toledo) Some of this equipment gets pretty beat up out here. Rookie drivers are famous for making mistakes and tearing stuff up, but this was actually done by the "Yard Dog" at the SAPA plant in Cressona, PA. "Yard Dog" is a term that is commonly used for the small tractor used at a plant where trailers need to be moved around for loading purposes. The name is also used for the person who drives such a tractor. He apparently got tangled up with something and tore the fabric on this Conestoga cover. It definitely needed to be repaired...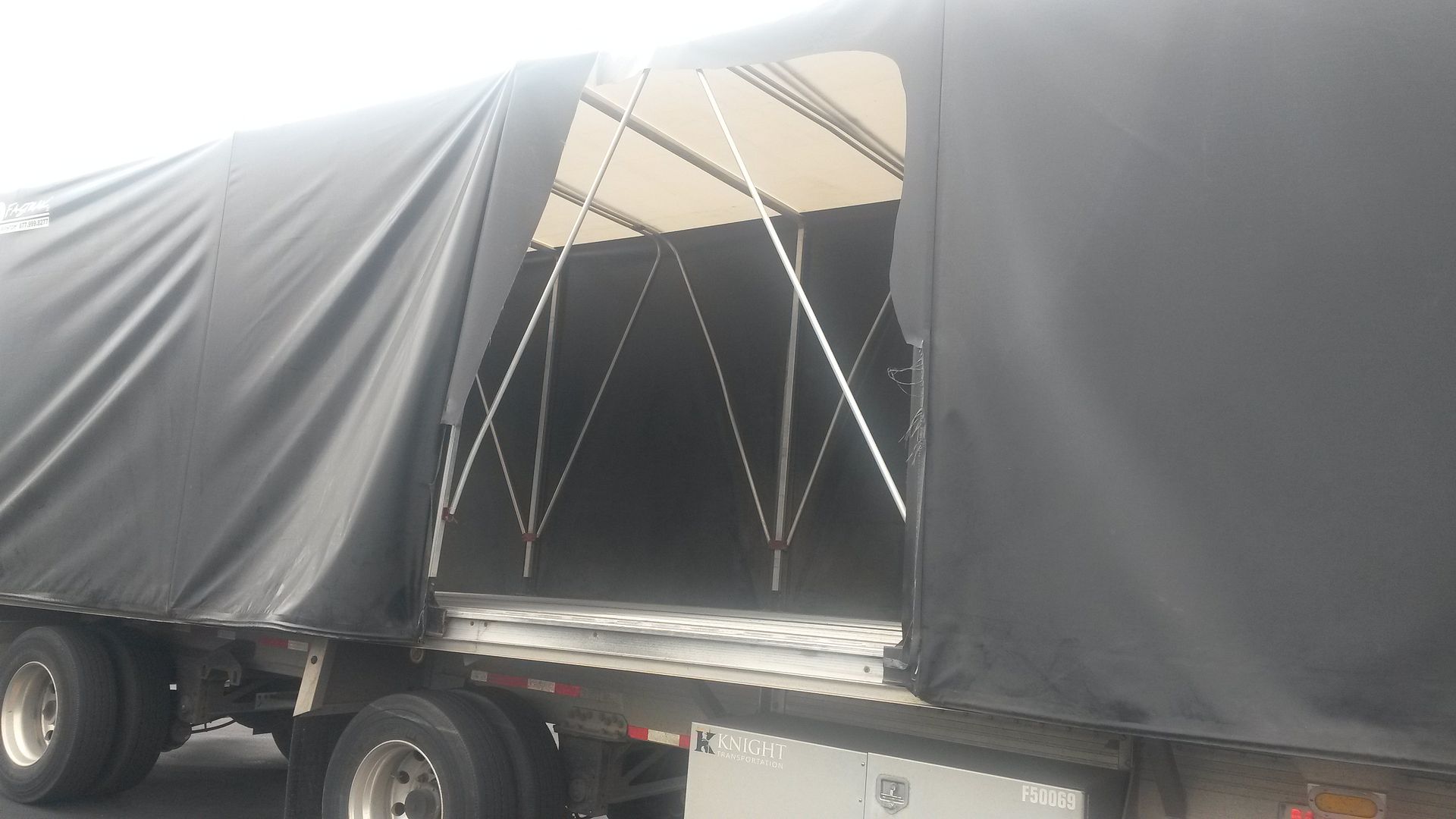 Always keep your dispatcher informed of your ETA's (estimated time of arrival) and your PTA's (projected time of availability). These are really effective tools at your disposal - they help your dispatcher keep you busy. All these major carriers have what it takes to keep you busy, their is no lack of freight. What their does seem to be is a disparity of communication when you compare the steps taken by successful drivers and average knuckle-heads out here who are constantly griping about how they are treated by this industry.

Be respectful to your dispatcher, he really does want to keep you busy. Communicate effectively with him so that he has the tools to work with for your benefit. Most of them get paid production bonuses, and that is why they love the types of drivers who do the things I just laid out for you in this scenario. He was thrilled that I not only wanted to do more, but was capable of taking the steps that enable him to give me more to do. Drivers and dispatchers are a working team, we are not "Us against Them."

Here's an additional and amusing bit of information on this same subject. The guy who was complaining about C.R. England got some responses from someone who used to be a driver for Knight Transportation. That driver kept on referring to how he couldn't get the needed miles at Knight, so now he was with a "much better" company. It is a typical example of what I am trying to illustrate here. We need to focus on ourselves, and how we manage the maze of what it takes to succeed out here. I am with Knight, and if I could possibly run more than my average of about 3,200 - 3,400 miles per week they would be doing what they could to help me get there!